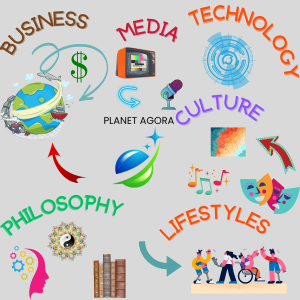 Writing and content creation: blogs, articles, e-books, videos, graphic design.
Resources for travelers and digital nomads. I travel quite a bit myself (I also do house and pet sitting), so I'm naturally interested in keeping up with travel-related topics.
My own writing – Includes Medium, where I post on topics related to society, culture, and various reviews. I also have various books, on topics ranging from urban fantasy to decluttering on my Amazon Author Page.
Book and movie reviews. I have separate sites for these: Indie Film World and Sage Books.
Designs – I've been dabbling in graphic design lately and will probably post images from my RedBubble shop, Planet Agora Collections.
Social Media: